anuary 11, 2011
Category: Animation
Blender
3D has changed considerable from 2.4x to 2.5X series. For the 2.4X
series of this powerful 3D graphic suite, we can use Cyclic Extend Mode
in the IPO editor to make cyclical 3D animation such as a Turn Table.
However, much have changed for the 2.5 series.
For Blender 2.5 and 2.6 (eventually), cyclical Turntable animation
makes use of linear interpolation and cyclical F-curve modifier. Below
video is an example of Turntable animation done using Blender 2.5 .
In Blender 2.5, the IPO editor of 2.4x have been expanded by the new Graph editor and Dopesheet.
Below illustrates the basic steps for creating a turntable 3D
animation for Blender 2.5. For this example, we will animate the
default cube in a Blender session start up.
1. In the first frame, insert keyframe using
I
-key. Select
Rotation
options.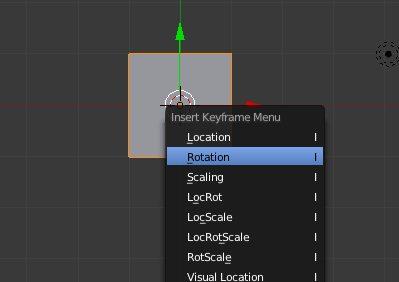 2.Go to the next keyframe frame. In this case, it is frame number 61.
3.Press
R
to rotate the object.
4.Type 359, press
Enter
key. This is to rotate the cube at the Z-axis for 359 degree.
5.Make sure the Rotation is reflected at the Transform Panel. If not, manually key in the figure.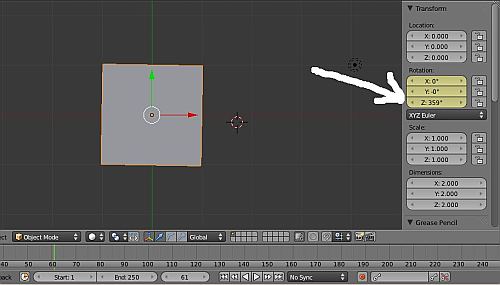 6.Now, press
I
to insert keyframe
7.Select
Rotation
This is the end of part 18. Go to the
Graph Editor
9. The Cube should be indicated at the right panel. Click and select
Rotation
from the Cube>> CubeAction dropdown.
10.Go to
Key>> Interpolation Mode >> Linear
. This will make the speed of rotation constant. The default is Bezier which have changing speed rate.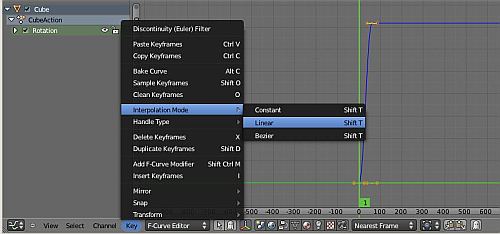 11. Uncheck X and Y Euler rotation
12. Click select
Z Euler Rotation
. This will be highlighted as white text.
13. RMB click to select the 2 control points on the graph. This is as indicated by the 2 white arrows in the screenshot below.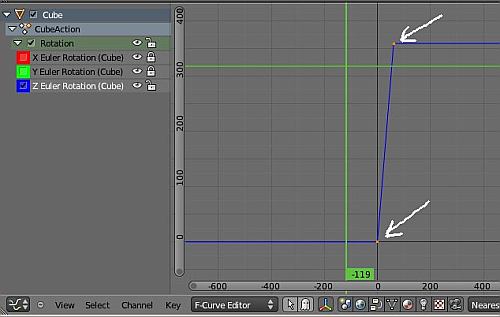 14. Go to Key >> Add F-curve modifier
15. Select Cycles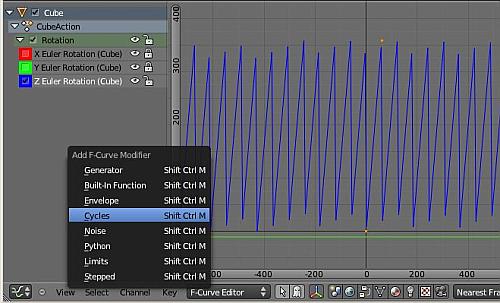 Now, if you do an animation preview ( Alt + A keys), you should see the cube rotation at the same spot continuously.
That's all for this Blender 2.5 /2.6 animation tutorial..]